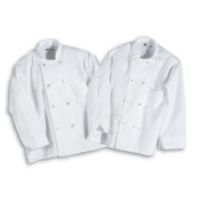 Professional Chef Apparel
Shop chef apparel and aprons at Wasserstrom. Get quality chef clothing to keep you looking a feeling like a professional. Find chef pants, chef coats & jackets and cooks shirts. Also find chefs hats, wraps and more headwear, and aprons. Buy chef apparel online at Wasserstrom.com to get the chef apparel that will keep your chefs and cooks comfortable. Select your Chef Apparel from great brands like Chef Revival, Chef Wear, and Refrigiwear.
More
Chef Apparel and Aprons
Dress to impress in the kitchen with the right chef apparel. Get chef coats and cooks shirts, protective headgear like chef's hats, beard covers and disposable hairnets, and more chef apparel. If you're working in below average temperatures check out our freezer jackets and stay toasty.
Order Your Kitchen Linens and Disposable Gloves
Order your chef apparel today, and have them arrive within a few days. Ordering online is easy and fast, with more items shipped out in one to two business days. If you have any questions about our chef apparel, or would prefer to place your restaurant supplies order by phone, please contact Customer Service.